What a summer it was! If you are already missing the outdoor swimming pool and the yummy ice cream, you can look forward to a wonderful autumn. No other time of the year nature has more treasures in store for us. So: get your toddlers, don't forget a bag and let's go outside! The most beautiful chestnuts you can craft into these cute owls. We'll show you how!
You need:
Chestnuts, autumn leaves, acorns small twigs
A piece of fabric for the wings
Scissors
Orange-colored craft cardboard
Wobbly eyes
Craft glue
Hot glue
Let's start! Start with the eyes: use the craft glue and place the wobbly into the acorn caps and then attached them to a chestnut with hot glue. We used old fabric from a cloth to cut out the wings. Alternatively you can simply use craft cardboard. Now let's get the owl a hat! Use a chestnut shell, a funny leaf or something else. We're pretty sure your toddlers will come up with something funny.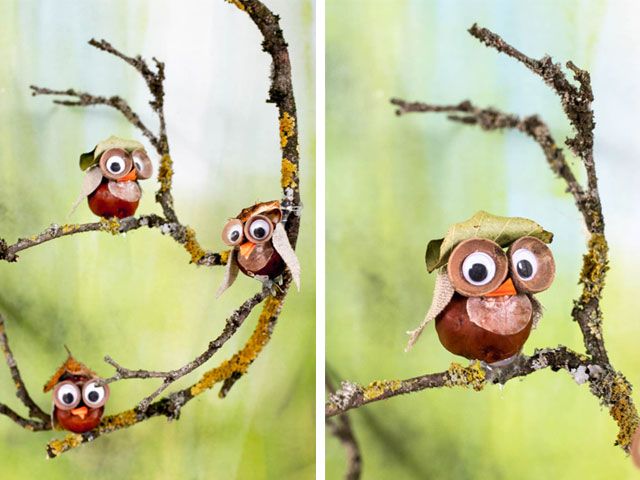 When all the owls are finished, you can glue them to a small branch and hang them in the window. Have fun collecting and doing your little chestnuts owls!